mission majnu review 3.5/5 and review rating
Mission Majnu Story of an Indian spy in Pakistan. In 1974, India surprised the world by successfully conducting nuclear tests. Pakistan's Prime Minister Zulfikar Ali Bhutto (Rajit Kapoor) is upset. On the advice of ISI chief Maqsood Alam (Shishir Sharma), Pakistan decides to invite Abdul Kadeer Khan (Mir Sarwar), a nuclear scientist based in the Netherlands. AQ Khan is given the responsibility of making the atomic bomb and Pakistan plans to secure its share from the black market. RAW chief RN Kao (Parmeet Sethi) learns that Pakistan is up to some mischief. With the approval of the Prime Minister of India (Avantika Akerkar), he informs his secret agent, Amandeep Singh alias Tariq (Sidharth Malhotra) in Rawalpindi to find out more details and the whereabouts of the nuclear bomb facility. Tariq is working as a tailor and has successfully created the image of a good natured simpleton. Therefore, no one has the slightest doubt that he is a spy. He falls in love with Nasreen (Rashmika Mandanna), a blind girl and the two get married. Tariq works at Nasreen's uncle Momin's (Manoj Bakshi) tailoring shop and often gets orders to stitch clothes for the Pakistani army. Tariq uses this opportunity to talk to the Pakistani Brigadier and gets information about the bomb and who is the scientist who is leading it. His mission is not an easy one as he needs to be very careful that Pakistani army or intelligence doesn't find out the truth about him. Besides, he has a sad past. His father was caught selling sensitive defense information about India to Pakistan. Tariq's mentor in Delhi, Sharma (Zakir Hussain) leaves no opportunity to remind him that he is the son of a traitor. Also, don't expect Tariq to marry and find love. Nevertheless, he is madly in love with Nasreen and they are expecting a child. What happens next forms the rest of the film.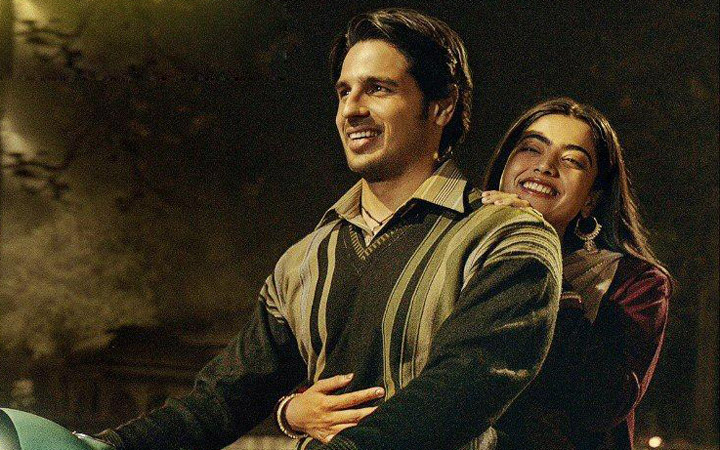 The story by Parvez Shaikh and Aseem Arora is excellent and has all the ingredients needed for a patriotic, commercial film. Screenplay by Sumit Batheja, Parvez Shaikh and Aseem Arora is very entertaining. Similar movies like D-Day have come in this space in recent times [2013]convinced [2018]nuclear [2018]and Romeo Akbar Walter [2019], But the script is written in such a way that one does not get to see deja vu of any of these films. Furthermore, the writers have peppered the story with some interesting moments that keep the interest up. Sumit Batheja's dialogues are conversational and some of them deserve praise.
Shantanu Bagchi's direction is commendable, especially considering that this is his debut film. He keeps the audience engaged and raises the tension level in some scenes very well. With less scope for action, the director makes sure that the film has a lot of drama and excitement. The best part of the movie is the way Tariq tries to find out about the atomic bomb. The humor is also well stuffed and doesn't look out of place. On the other hand, the whole Israel angle has not been explained properly. Onlookers may not be able to understand what was the intention behind the planned air strikes. The action is minimal and one wishes it was more. This is especially because Siddharth is a good action hero with his looks and build. Finally, some developments are hard to digest.
MISSION MAJNU starts off well, with the makers explaining the context. The romantic track by Tariq and Zulfikar is lovely. The film picks up pace as soon as Tariq's mission begins. The scenes where he cleverly extracts information from the Brigadier and AK Khan's neighbor are memorable scenes from the first half. The scene in which Tariq's father-in-law dies has been cleverly edited. In the second part, the fun continues as Tariq reaches Kahuta and goes to insane heights to prove that Pakistan is indeed building a nuclear bomb. The train sequence, in particular, stands out for being action packed. Another memorable scene is when Sharma apologizes to Tariq. The finale is nail-biting and moving.
Mission Majnu | Sidharth Malhotra, Rashmika Mandanna | Official Trailer | netflix india
After Shershaah, Sidharth Malhotra has given another stellar performance. The scenes worth watching are the ones where he pretends to be an innocent person while fooling the Pakistanis. The actor looks quite confident in the act. Rashmika Mandanna has a good screen presence. Performance-wise, he is excellent, although his screen time is limited. Sharib Hashmi (Aslam Osmania), as expected, is dependable and delivers laughs. Kumud Mishra (Maulvi) has nothing much to do in the first half and adds to the craziness in the second half. Zakir Hussain is very good. Avantika Akerkar and Avijit Dutt (Morarji Desai) leave a mark. Shishir Sharma, Mir Sarwar, Rajit Kapoor, Parmeet Sethi and Manoj Bakshi have limited roles but they all do very well. The same goes for Salim Fatehi (Rasool; Nasreen's father) and Ashwath Bhatt (Zia ul Haq). Ananth Narayan Mahadevan (RK) is wasted.
Music is disappointing. 'Rabba Janda' Works because of the situation in the film. 'Mother of soil' Well thought out but not memorable. Ketan Sodha's background score is subtle and impactful.
Bijitesh Dey's cinematography is apt. Rita Ghosh's production design is reminiscent of a bygone era. Divya Gambhir and Nidhi Gambhir's costumes are far from life. None of the characters are dressed glamorously and yet, the protagonists in particular look quite convincing. The VFX of 88 Pictures is satisfactory. Nitin Baid and Siddharth S Pandey's editing is perfect as the film is neither too fast nor too drawn out.
On the whole, Mission Majnu is an entertaining saga that works because of a tight screenplay, intelligently written sequences, tight execution, and memorable performances by Sidharth Malhotra and the rest of the cast.