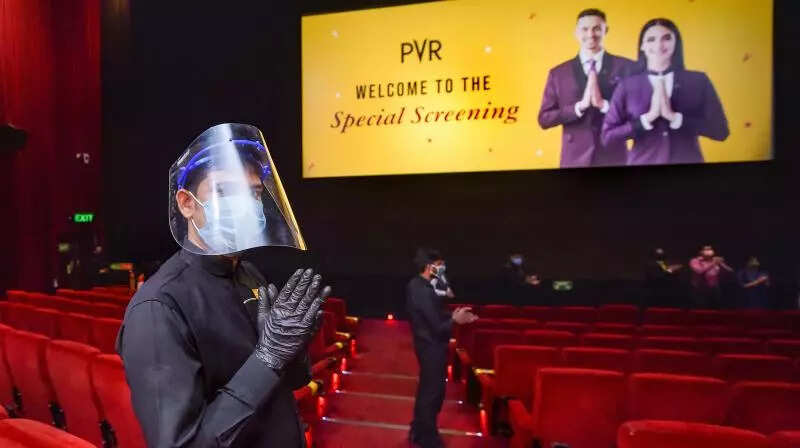 Kotak Securities downgrades PVR
Photo: PTI
Kotak Securities
downgraded to
PVR
Has reduced the stock and target price to Rs 1850 per share. The company has cut FY23 – 24 EBITDA (a measure of core corporate profitability) by 15-38%. The company has cut FY23 – 24 EBITDA (a measure of core corporate profitability) by 15-38%.
This news comes in the backdrop of Mumbai recently
NCLT
INOX and PVR merger cleared INOX-PVR merger expected to become a multiplex with National Company Law Tribunal (NCLT) nod – merged entity will have a stronger bargaining power, better negotiation, better theater windows This is a huge positive for capex discipline which will aid in cash flow, improve the balance sheet strength of the entity and help redefine the industry dynamics.
However, the downgrade focuses on the emerging trend in the Hindi multiplex business as it suffers from a content slowdown. has been a consistent weakness when it comes to
Bollywood
Net Box Office Collection.
Data shows that there has been a structural change in consumer behavior – it seems that their threshold for tolerating bad content is very low, even films made by big banners have flopped when they failed to impress the audience.
While Bollywood is expected to present better content in the near future, it will still be an uphill task to pull audiences to theaters and match the pre-pandemic levels.
Meanwhile, theaters are also facing competition from OTT, which is raising the bar of content. Viewers are turning towards OTT for good content from the comfort of their homes.
Kotak Securities has downgraded PVR as it said that PVR Inox occupancy for the last 9 months is around 26% against the pre-pandemic normal occupancy of 32%.
Going forward, the company said there will be around 150 bps on EBITDA margin and around 8-10% decline in EBITDA. This has brought down the merged entity's FY24 occupancy by 29% and EBITDA by 15%.